Introduction
Brooklinen fancy themselves as a sort of premium-but-still-accessible home goods brand. Founded by Rich and Vicki Fulop, their offerings range from bedsheets, to pillows, to loungewear, and of course the only thing that really matters: bath towels. I spent a week reviewing their "Super Plush" variant.
Price

A set of two will set you back $69. nice
Packaging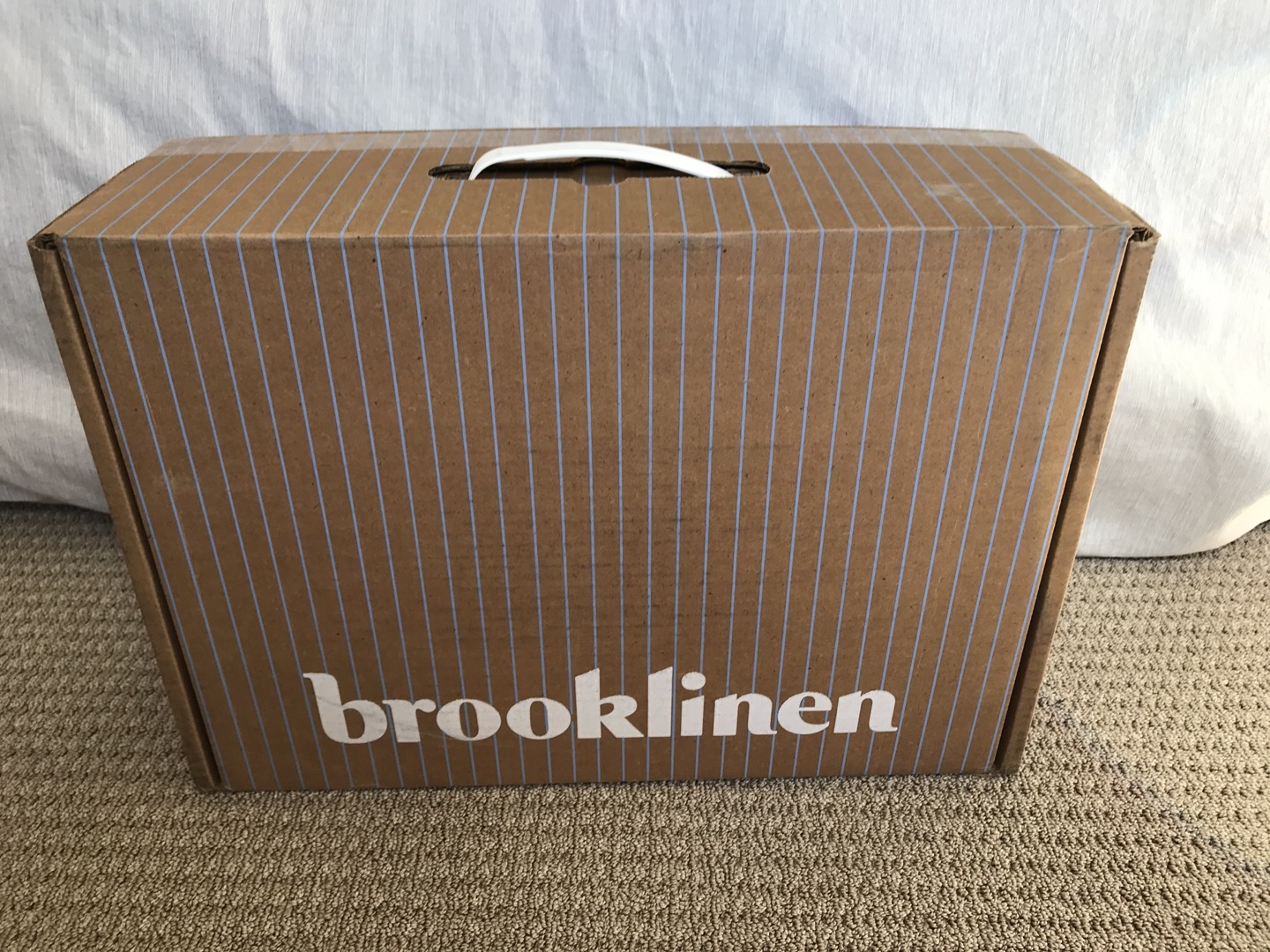 My towels arrived in a sturdy carboard box with a plastic carrying handle. I question Brooklinen's choice to use a cheap material like plastic for a product positioned in the premium segment of the market. It gets the job done though. I was able to hoist the box into my home without my new linens spilling out onto the street for some vagrant to run off with.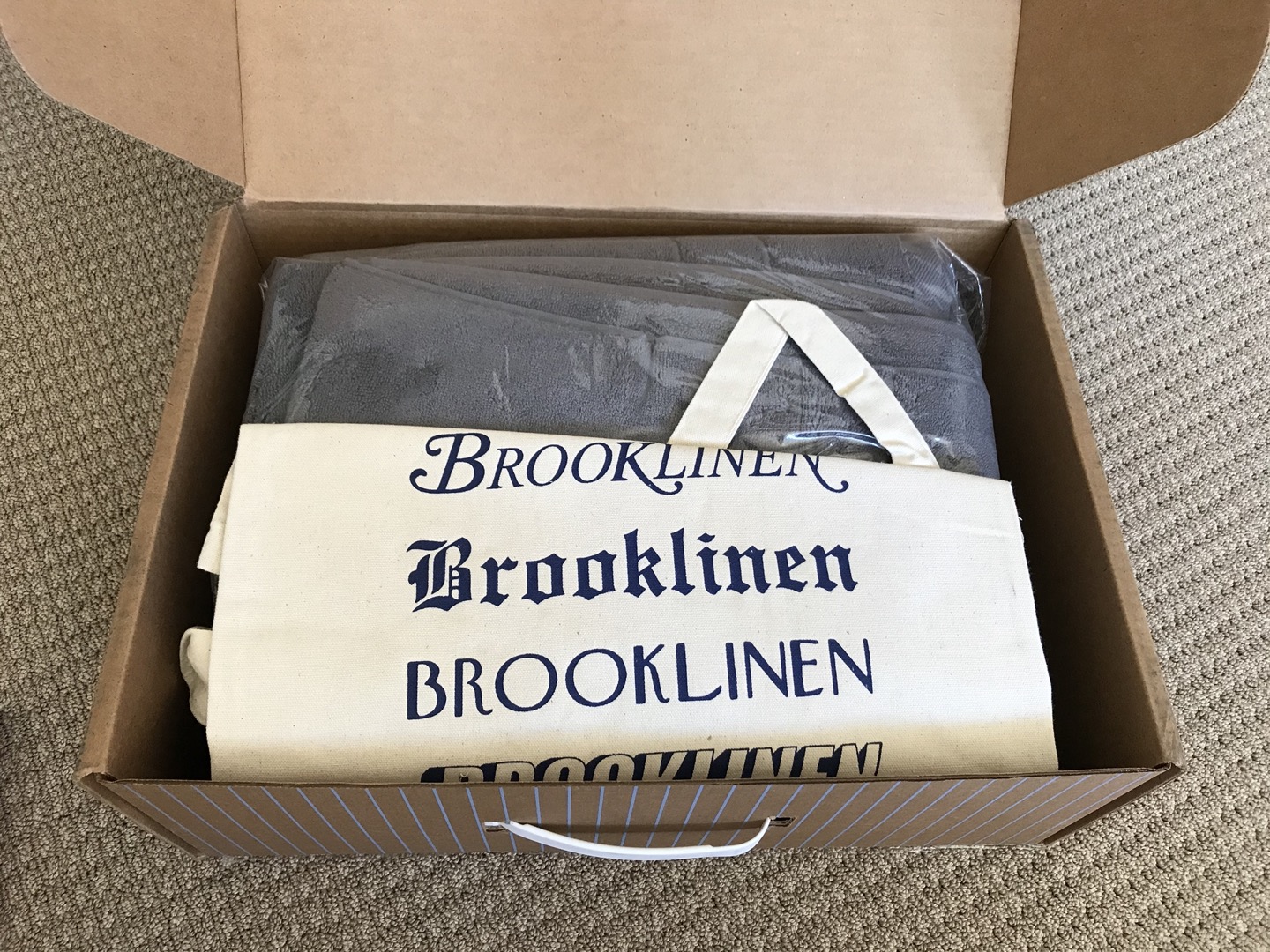 Rich and Vicki were kind enough to include a complimentary canvas tote bag alongside the towels. I've dedicated a section to the tote bag below.
Immediately after peeling apart the plastic wrapper I stuffed my face into the uppermost towel and took a huge whiff. Do not do this. Fresh out of the bag these things reek of vinegar stained wood. After I regained consciousness, I proceeded to inspect the tags attached to the towels.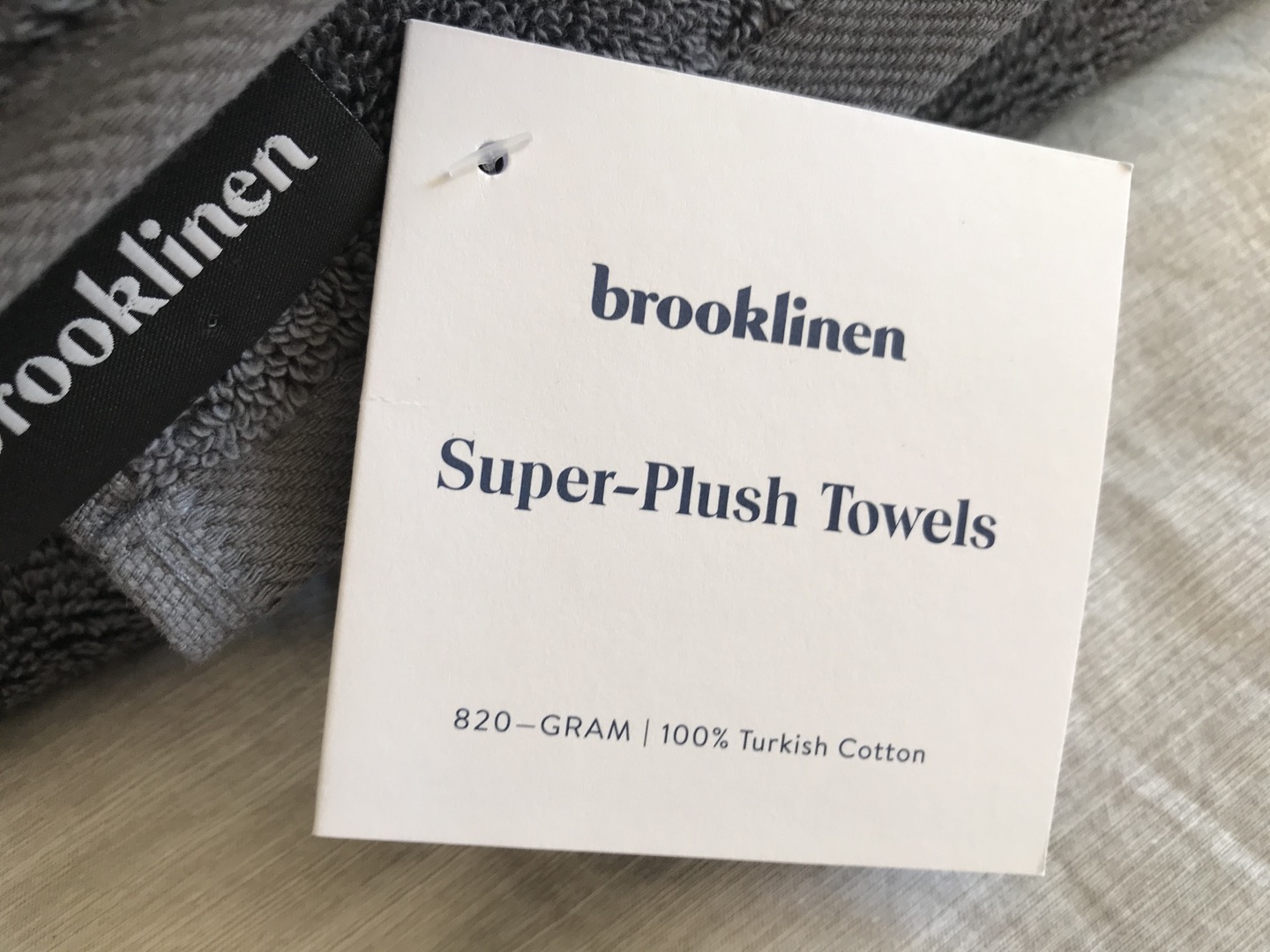 One of the two towels had an information tag attached to it. Sadly, it appears that Brooklinen has once again cheaped out and gone for a plastic tag fastener instead of string. String tag fasteners are table-stakes for a high-quality towel these days. Rich and Vicki should know better.
Tote bag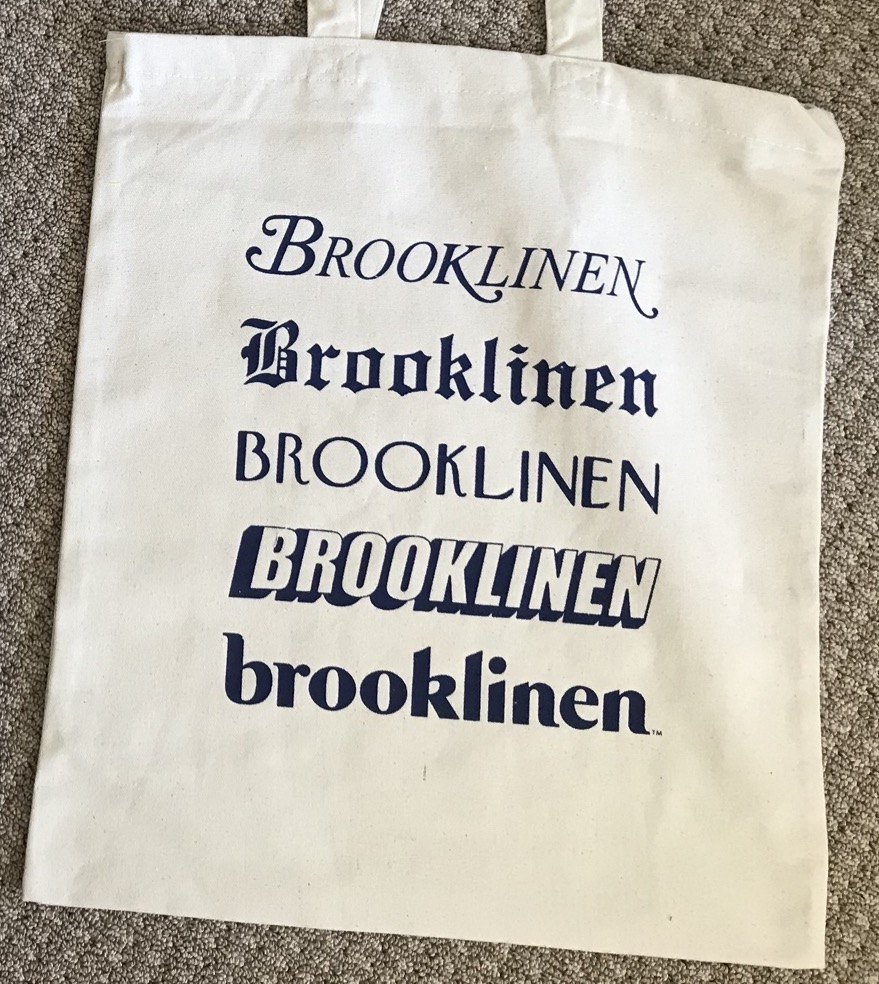 The front of the bag is emblazoned with a column of five typographic variations of the Brooklinen brand. They appear to be plays on New York publication logos:
New York Magazine
New York Times
New Yorker
New York Post
Normal Brooklinen logo
I'm deeply enamored with typography and east coast media, so you know I'm going to add this to my grocery tote-bag rotation.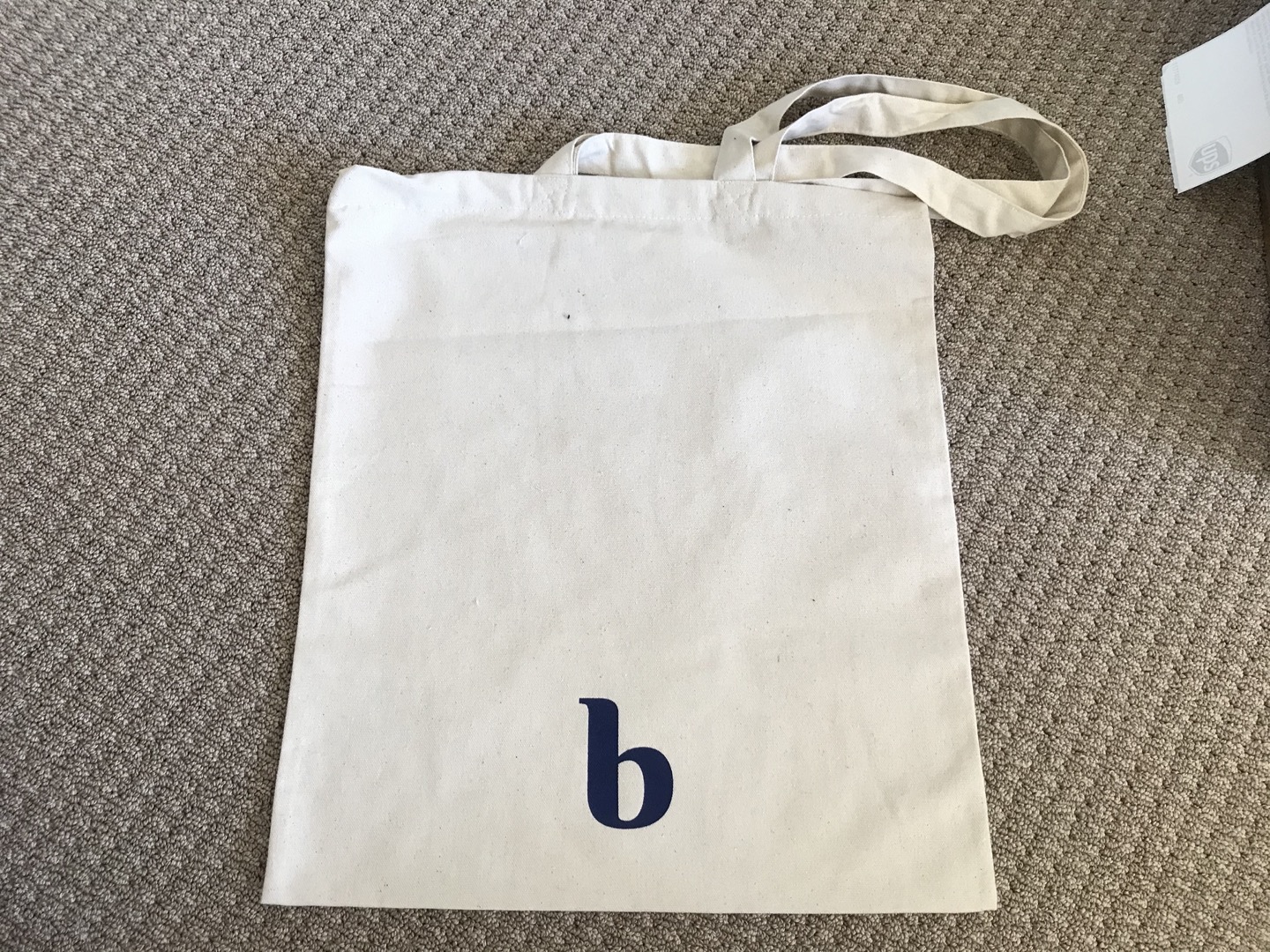 The backside has a lone "b" near the base. Tasteful.
The tote has little wood specks embedded in the fabric. That's an indication that it is made of recycled materials, and is therefore good for the environment. Based on my testing, the specks are large enough to remain visible past 20 feet 1. So you can rest assured that as you step out of Whole Foods carrying your avocados and oat milk in this tote, your fellow shoppers will see that you are doing your part to stop global warming.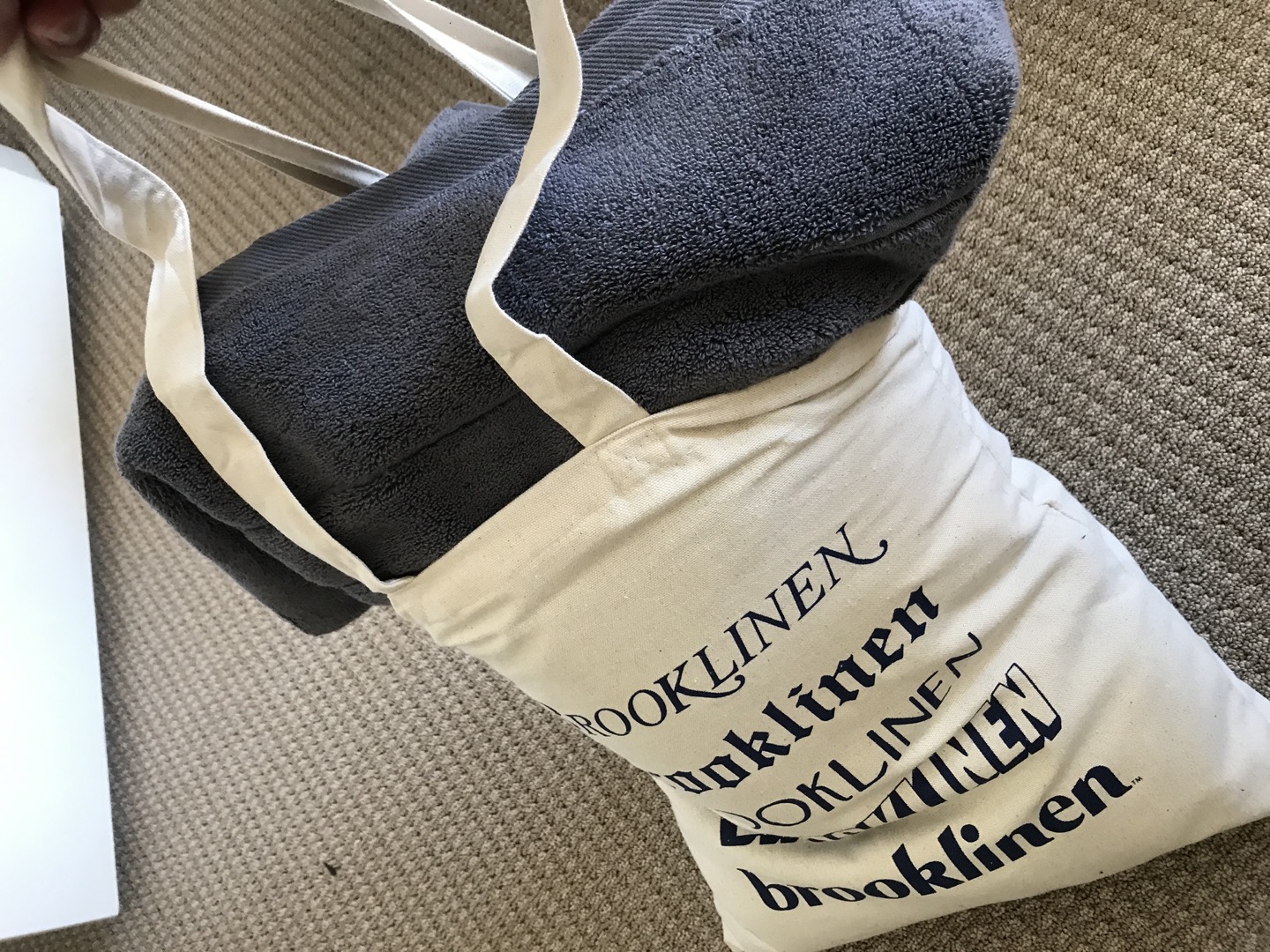 The carrying capacity of this tote is about the same as a typical free tote bag you'd expect to get at a conference booth. It easily fits a one of the Super Plush towels, but struggles to fit a second. This is a major problem for me. Now I need to purchase a separate bag for my towels, one that won't do as good a job showing off my knowledge of New York publications.
Materials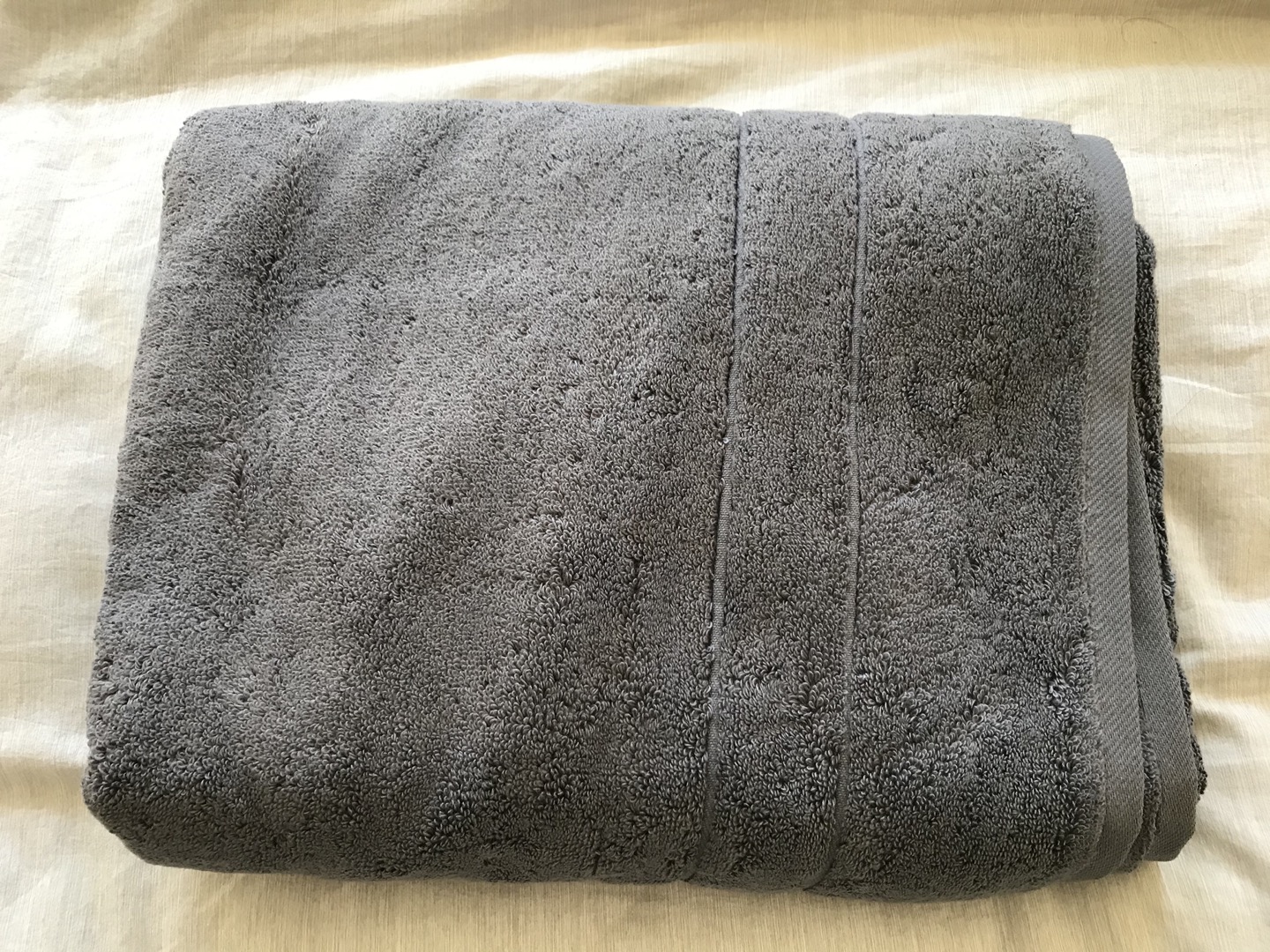 According to the tags, the Super Plush is made of 100% Turkish cotton, and satisfies the OEKO-TEX Standard 100 criteria. It feels significantly smoother than [link to target room essentials towel review], but not much more than the Threshold Performance Towel, which is less than quarter of the price.
Each towel has a mass density of 820 GSM, making it the heaviest of all the towels I have reviewed so far.
Like most towels, the Super Plush is covered in a field of tiny fabric loops. The field covers the whole towel except for two stripes running across the width of the towels. I took a few photos at 14x zoom to perform a detailed analysis of the loop field: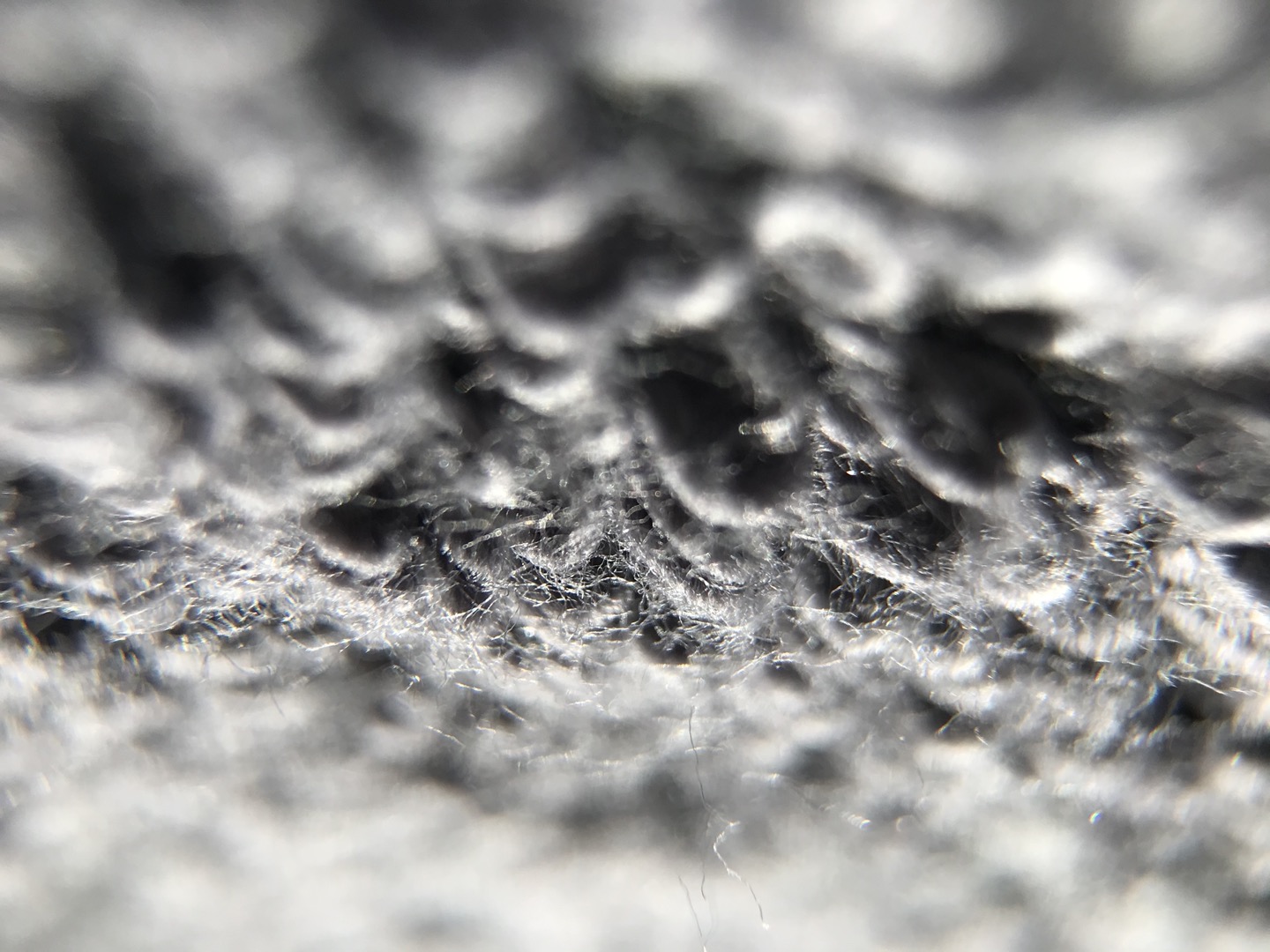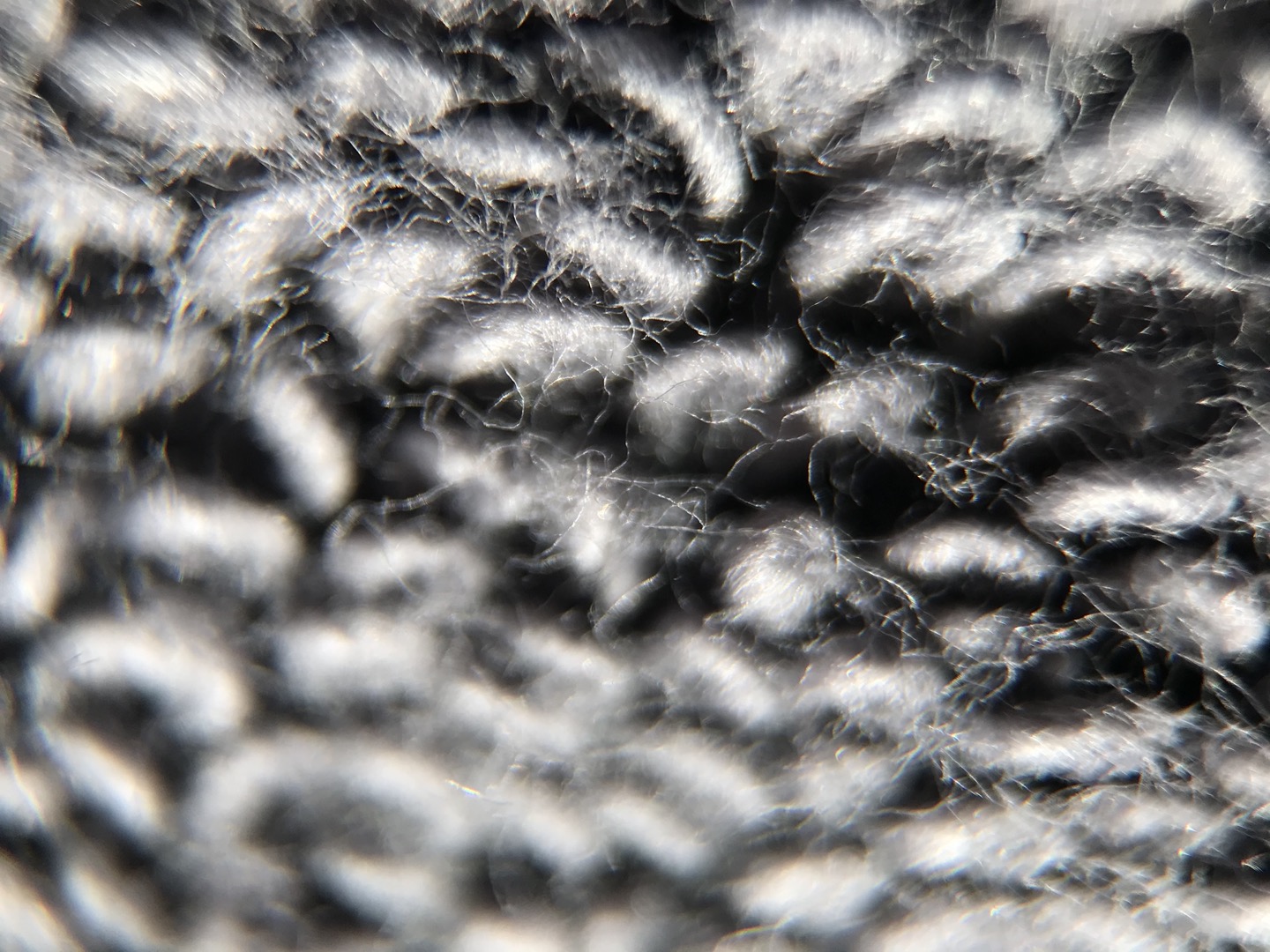 Immediately noticeable from these photos are the density and tightness of the loops. They are so tight that you almost can't tell that they have holes.
Not as easy to see in these photos is the length of the loops. They are a few millimeters longer than the other towels I've seen.
So, in summary:
The field is denser than usual. That is, there are more loops per unit area.
The individual loops tighter than usual.
The individual loops longer than usual.
These three things are likely what makes these towels feel smooth and plush. But do they make the towels more absorbent?
Absorption
It absorbs water pretty good
Care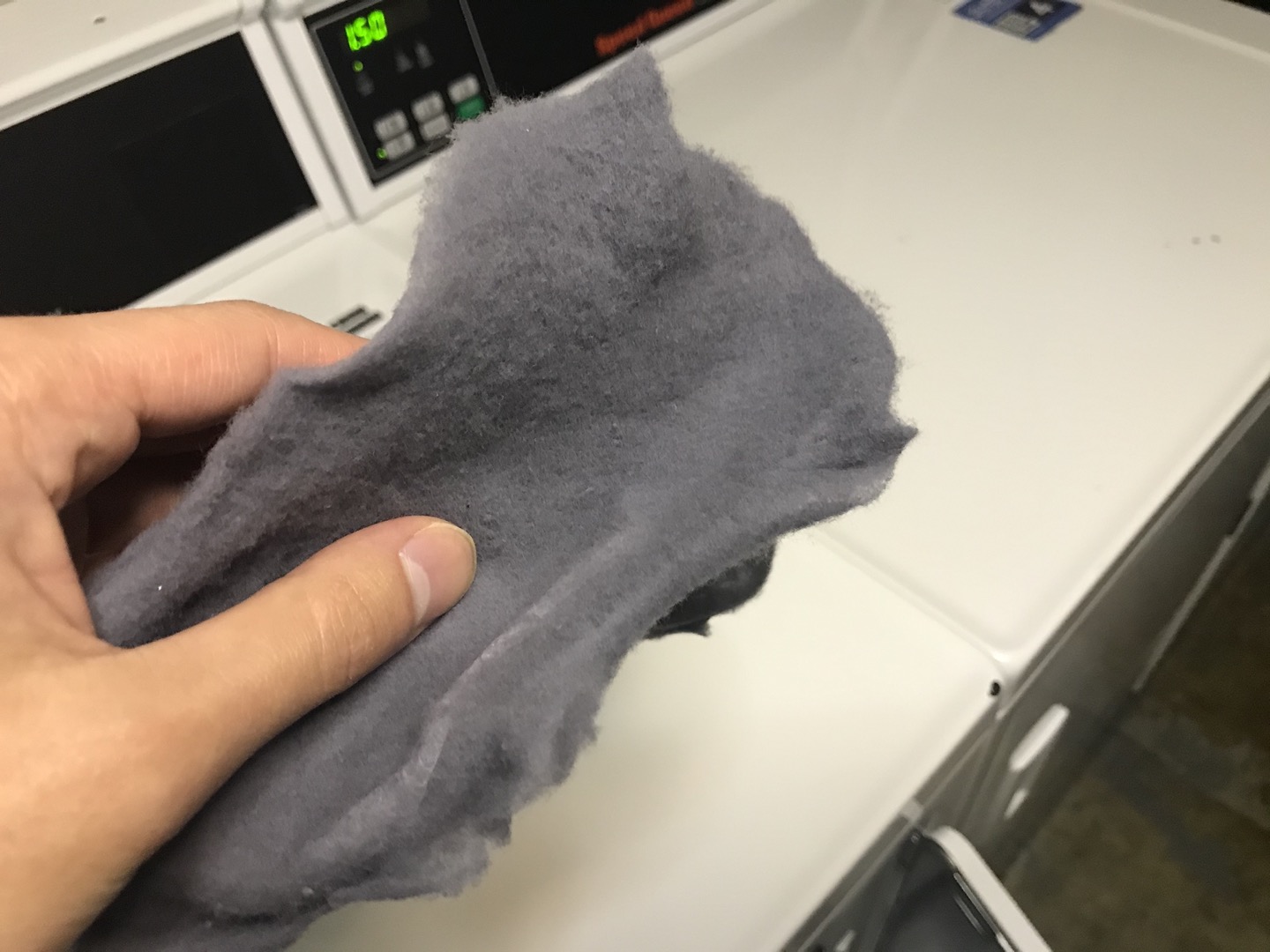 I ran the towels through a warm cycle wash and tumble dried them at low heat before using them. The lint produced during the drying pass was the softest of any towel that I've used. I keep it in a plastic bag under my desk. Kudos to Brooklinen for really thinking through the full ownership experience and sweating the details here. This almost makes up for their poor choice of materials in the packaging and labels.
Final Thoughts
2/10
Links
https://www.brooklinen.com/products/super-plush-bath-towels
---
Assuming onlooker has 20/20 vision under typicaly outdoor "sunny day" brightness of 2000 lumens. ↩︎